Levine & Partners Law Firm
Commercial Transactions
Our Miami law firm represents international investors and U.S. and foreign businesses in all aspects of commercial transactions.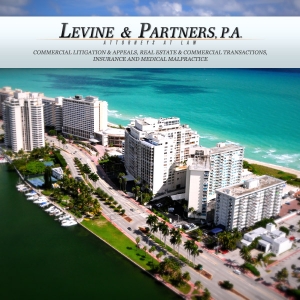 The law firm's corporate and transactional department, in Miami, encompasses broad practice areas. The law firm's clients include public and private entities and investors, banks and other financial institutions, health care providers, shipping and transport companies, and importers and exporters in many product areas.
This law firm's Commercial Transactions department handles all aspects of domestic and international investment and commercial transactions, including purchases and sales, mergers, acquisitions, reorganizations, trade credits, financing and all aspects of cross-border trade and investment. Our Miami-based law firm represents international investors and U.S. and foreign businessmen in all aspects of a transaction, from initial planning and negotiations through documentation, closing and post-closing operations. To the extent that any matter requiring a specialized area of expertise the law firm does not possess in-house, we call upon our established network of reputable service providers to meet the client's goals and objectives, while maintaining active oversight in all matters.